All foreign drivers are requred to have an international driving license(Geneve convention 1949) or foreign(Germany, France, Switzerland, Belgium, Slovenia, Monaco or Taiwan) driver's license with Japanese translation.
International driver's license
(Geneva convention 1949)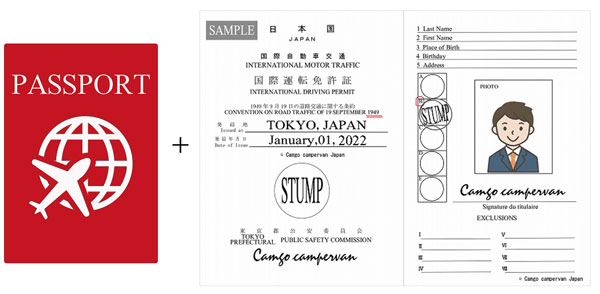 Foreign driver's license (Switzerland, Slovenia, Germany, France, Belgium, Monaco, Taiwan)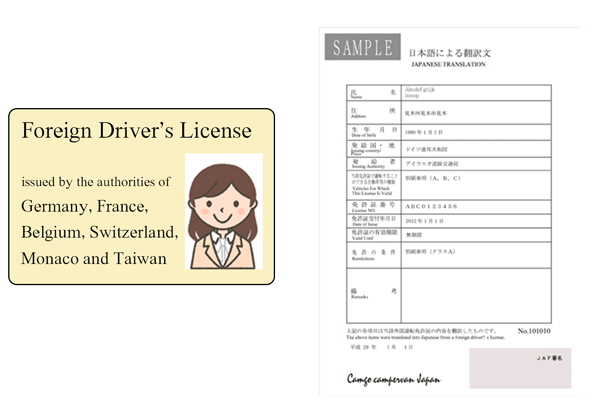 International driving permit (Driver's license / Geneva Convention 1949)

| | |
| --- | --- |
| Asia | Filipine, India,Thailand, Bangladesh, Malaysia, Singapore, Sri Lanka, Cambodia, Laos, Korea, Hong Kong, Macau |
| Oceania | New Zealand, Fiji, Australia, Papua New Guinea |
| Europe | England, Greece, Norway, Denmark, Sweden, Netherlands, Italy,Russia, Serbia, Montenegro, Spain, Finland, Portugal, Austria, Poland, Ireland, Hungary, Romania, Iceland, Bulgaria, Malta, Albania,Luxembourg, San Marino, Vatican, Kyrgyzstan, Georgia, Czech Republic, Slovakia |
| America | USA, Canada, Peru, Cuba, Equador, Argentina, Chile, Paraguay, Barbados,Dominican Republic, Guatemala, Haiti, Trinidad Tobago, Venezuela,Jamaica |
| Africa | South Africa, Central Africa, Egypt, Ghana, Algeria, Morocco, Botswana,Democratic Republic of the Congo, Congo, Benin, Cote d'Ivoire, Lesotho,Madagascar, Malawi, Mari, Niger, Rwanda, Senegal, Sierra Leone,Togo,Tunisia, Uganda, Zimbabwe, Namibia, Burkina Faso, Nigeria |
| Middle east | Turkey, Israel, Syria, Cyprus, Jordan, Lebanon, UAE |
Driver's licenses issued in Germany, France, Switzerland, Belgium, Slovenia, Monaco or Taiwan must be able to simultaneously present passport and Japanese translation of driver's license.
We could take care of an application for you.
Please prepare clear photocopies of the front and back of the license, preferably in color, that allow the inscriptions on the license to be read clearly.
Please feel free ask us any question. Have fun on your trip!!